Book: The Zookeeper's Wife by Diane Ackerman
When: Friday, September 25th @ 7pm
Where: Ellie's Place
Synopses
From Publishers Weekly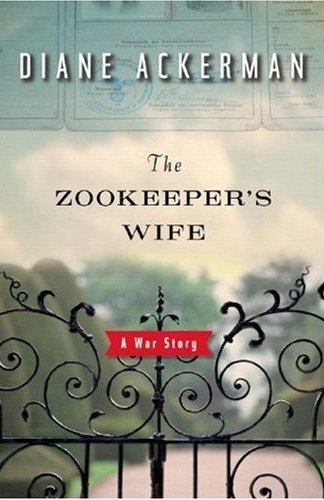 Starred Review. Ackerman (A Natural History of the Senses) tells the remarkable WWII story of Jan Zabinski, the director of the Warsaw Zoo, and his wife, Antonina, who, with courage and coolheaded ingenuity, sheltered 300 Jews as well as Polish resisters in their villa and in animal cages and sheds. Using Antonina's diaries, other contemporary sources and her own research in Poland, Ackerman takes us into the Warsaw ghetto and the 1943 Jewish uprising and also describes the Poles' revolt against the Nazi occupiers in 1944. She introduces us to such varied figures as Lutz Heck, the duplicitous head of the Berlin zoo; Rabbi Kalonymus Kalman Shapira, spiritual head of the ghetto; and the leaders of Zegota, the Polish organization that rescued Jews. Ackerman reveals other rescuers, like Dr. Mada Walter, who helped many Jews pass, giving lessons on how to appear Aryan and not attract notice. Ackerman's writing is viscerally evocative, as in her description of the effects of the German bombing of the zoo area: …the sky broke open and whistling fire hurtled down, cages exploded, moats rained upward, iron bars squealed as they wrenched apart. This suspenseful beautifully crafted story deserves a wide readership. 8 pages of illus. (Sept.)
Copyright © Reed Business Information, a division of Reed Elsevier Inc. All rights reserved.
This fabric reviewed some basic information to keep in mind, as well as how you can find options to order remedies. But, there are companies that sell prescription drugs to customers who need them at low costs. There are drugs intended only for children. This article tell more about "cialis dosage". Is it possible to prevent ED? This fabric tell more about the signs of erectile dysfunction and "cialis dose". Other question we are going to is "http://goodpageabout.com/cialis-side-effects.html". Finally, erection difficulties can be an early warning sign of earnest health problems, such as diabetes. Note, if you have any other questions about the problem ask your soundness care provider.