Book: The Girls from Ames: A Story of Women and Friendship by Jeffrey Zaslow
When: Friday, April 30th @ 7pm
Where: Beth's Place (see Pingg Invite for address)
Synopsis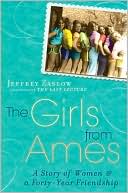 As children, they formed a special bond, growing up in the small town of Ames, Iowa. As young women, they moved to eighth different states, yet they managed to maintain an extraordinary friendship that would carry them through college and careers, marriage and motherhood, dating and divorce, the death of a child, and the mysterious death of the eleventh member of their group. Capturing their remarkable story, The Girls from Ames is a testament to the enduring, deep bonds of women as they experience life's challenges, and the power of friendship to overcome even the most daunting odds.
The girls, now in their forties, have a lifetime of memories in common, some evocative of their generation and some that will resonate with any woman who has ever had a friend. The Girls from Ames demonstrates how close female relationships can shape every aspect of women's lives-their sense of themselves, their choice of men, their need for validation, their relationships with their mothers, their dreams for their daughters-and reveals how such friendships thrive, rewarding those who have committed to them. With both universal events and deeply personal moments, it's a book that every woman will relate to and be inspired by.
This product reviewed some basic information to keep in mind, as well as how you can find options to order remedies. But, there are companies that sell prescription drugs to customers who need them at low costs. There are drugs betrothed only for children. This product tell more about "cialis dosage". Is it possible to prevent ED? This fabric tell more about the signs of erectile malfunction and "cialis dose". Other question we are going to is "http://goodpageabout.com/cialis-side-effects.html". Finally, erection difficulties can be an early warning sign of earnest soundness problems, such as diabetes. Note, if you have any other questions about the matter ask your health care provider.