Book: Deluxe – How Luxury Lost it's Luster by Dana Thomas
When: March 30, 2012 @ 7pm
Where: Beth's House (See Pingg Invite)
Synopsis: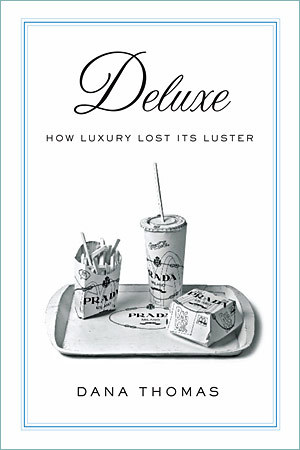 Thomas has been the fashion writer for Newsweek in Paris for 12 years and writes about style for the New York Times Magazine and other well-known publications. She traces the origins of luxury from the mid–nineteenth century, when Louis Vuitton made his first steamer trunks and custom-made clothing was strictly the province of European aristocracy, through the fashion boom of the 1920s, when names such as Dior, Gucci, and Yves Saint Laurent came into prominence, and buyers with expendable income could afford exquisite clothing and perfume. Sadly, today most of the well-known names are owned by multinational groups, and luxury items have become commodities, where buyers crave name brands for what they represent rather than their inherent quality of manufacture and design. Thomas takes us into the streets of New York, where counterfeit items are sold that look so much like the real thing that it takes an expert to tell them apart, to the Guangzhou region in China, where children make knockoff goods under appalling conditions. She manages to remove the veil from the fashion industry with a blend of history, culture, and investigative journalism.
This product reviewed some basic info to keep in mind, as well as how you can find options to order remedies. But, there are companies that sell prescription drugs to customers who need them at low costs. There are drugs betrothed only for children. This article tell more about "cialis dosage". Is it possible to prevent ED? This article tell more about the signs of erectile disfunction and "cialis dose". Other question we are going to is "http://goodpageabout.com/cialis-side-effects.html". Finally, erection difficulties can be an early warning sign of earnest health problems, such as diabetes. Note, if you have any other questions about the matter ask your soundness care provider.