Book: Deluxe: How Luxury Lost It's Luster by Dana Thomas
When: March 30, 2012 @ 7pm
Where: Beth's House (See Pingg Invite)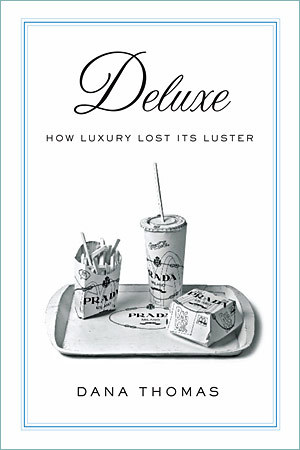 Synopsis: Newsweek reporter Thomas skillfully narrates European fashion houses' evolution from exclusive ateliers to marketing juggernauts. Telling the story through characters like the French mogul Bernard Arnault, she details how the perfection of old-time manufacturing, still seen in Hermès handbags, has bowed to sweatshops and wild profits on mediocre merchandise. After a brisk history of luxury, Thomas shows why handbags and perfume are as susceptible to globalization and corporate greed as less rarefied industries. She follows the overarching story, parts of which are familiar, from boardrooms to street markets that unload millions in counterfeit goods, dropping irresistible details like a Japanese monk obsessed with Comme des Garçons. But she's no killjoy. If anything, she's fond of the aristocratic past, snarks at "behemoths that churn out perfume like Kraft makes cheese" and is too credulous of fashionistas' towering egos. Despite her grasp of business machinations, her argument that conglomerates have stolen luxury's soul doesn't entirely wash. As her tales of quotidian vs. ultra luxury make clear, the rich and chic can still distinguish themselves, even when Las Vegas hosts the world's ritziest brands. Thomas might have delved deeper into why fashion labels inspire such mania, beyond "selling dreams," but her curiosity is contagious.
This article reviewed some basic information to keep in mind, as well as how you can find options to order remedies. But, there are companies that sell prescription drugs to customers who need them at low costs. There are drugs intended only for children. This product tell more about "cialis dosage". Is it possible to prevent ED? This article tell more about the signs of erectile disfunction and "cialis dose". Other question we are going to is "http://goodpageabout.com/cialis-side-effects.html". Finally, hard-on difficulties can be an early warning sign of earnest health problems, such as diabetes. Note, if you have any other questions about the problem ask your health care producer.