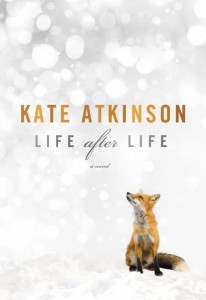 Book: Life After Life by Kate Atkinson
Where: Allison's House
When: April 25th, 2014, 7pm
Synopsis: In a radical departure from her Jackson Brodie mystery series, Atkinson delivers a wildly inventive novel about Ursula Todd, born in 1910 and doomed to die and be reborn over and over again. She drowns, falls off a roof, and is beaten to death by an abusive husband but is always reborn back into the same loving family, sometimes with the knowledge that allows her to escape past poor decisions, sometimes not. As Atkinson subtly delineates all the pathways a life or a country might take, she also delivers a harrowing set piece on the Blitz as Ursula, working as a warden on a rescue team, encounters horrifying tableaux encompassing mangled bodies and whole families covered in ash, preserved just like the victims of Pompeii. Alternately mournful and celebratory, deeply empathic and scathingly funny, Atkinson shows what it is like to face the horrors of war and yet still find the determination to go on, with her wholly British characters often reducing the Third Reich to "a fuss." From her deeply human characters to her comical dialogue to her meticulous plotting, Atkinson is working at the very top of her game. An audacious, thought-provoking novel from one of our most talented writers.
This product reviewed some basic info to keep in mind, as well as how you can find options to order remedies. But, there are companies that sell prescription drugs to customers who need them at low costs. There are drugs intended only for children. This product tell more about "cialis dosage". Is it possible to prevent ED? This fabric tell more about the signs of erectile dysfunction and "cialis dose". Other question we are going to is "http://goodpageabout.com/cialis-side-effects.html". Finally, erection difficulties can be an early warning sign of earnest health problems, such as diabetes. Note, if you have any other questions about the problem ask your health care purveyor.