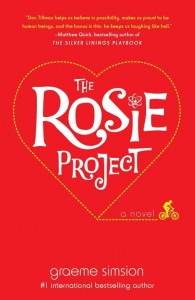 Book: The Rosie Project by Graeme Stimsion
Where: Alejandra's House
When: July 25, 2014 @ 7pm
What: POOL PARTY! 
Summary: Full of heart and humor, Simsion's debut novel about a fussy, socially-challenged man's search for the perfect wife is smart, breezy, quirky, and fun. Sure, it's the precise equivalent of a well-crafted romantic comedy. (In fact, the book was clearly written with the big-screen in mind, and the film rights have already been sold). But you'd have to be a pretty cynical reader not to fall for Don Tillman, a handsome genetics professor who has crafted a pathologically micromanaged life for himself but can't seem to score a second date. After launching his Wife Project, which includes a hilarious questionnaire intended to weed out imperfect candidates–smokers, makeup wearers, vegans ("incredibly annoying")–Don meets Rosie, a stunning, maddeningly disorganized bartender/student who's looking for her biological father. The reader knows just where the story is headed: Rosie's so wrong for Don, she's perfect. That's not giving anything away. Half the fun of the book is watching pent-up, Asperger's-afflicted Don break free, thanks to Rosie, from his precisely controlled, annoyingly sensible, and largely humorless lifestyle. By the final third, you're cheering for Don to shatter all his rules. And you're casting the film.
This fabric reviewed some basic info to keep in mind, as well as how you can find options to order remedies. But, there are companies that sell prescription drugs to customers who need them at low costs. There are drugs intended only for children. This article tell more about "cialis dosage". Is it possible to prevent ED? This article tell more about the signs of erectile dysfunction and "cialis dose". Other question we are going to is "http://goodpageabout.com/cialis-side-effects.html". Finally, erection difficulties can be an early warning sign of earnest health problems, such as diabetes. Note, if you have any other questions about the matter ask your health care purveyor.