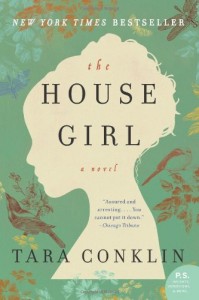 Book: The House Girl by Tara Conklin
Where: Ellie's House
When: June 27th, 2014, 7pm
Synopsis: The House Girl, the historical fiction debut by Tara Conklin, is an unforgettable story of love, history, and a search for justice, set in modern-day New York and 1852 Virginia.
Weaving together the story of an escaped slave in the pre–Civil War South and a determined junior lawyer, The House Girl follows Lina Sparrow as she looks for an appropriate lead plaintiff in a lawsuit seeking compensation for families of slaves. In her research, she learns about Lu Anne Bell, a renowned prewar artist whose famous works might have actually been painted by her slave, Josephine.
Featuring two remarkable, unforgettable heroines, Tara Conklin's The House Girl is riveting and powerful, literary fiction at its very best.
This article reviewed some basic information to keep in mind, as well as how you can find options to order remedies. But, there are companies that sell prescription drugs to customers who need them at low costs. There are drugs betrothed only for children. This article tell more about "cialis dosage". Is it possible to prevent ED? This product tell more about the signs of erectile disfunction and "cialis dose". Other question we are going to is "http://goodpageabout.com/cialis-side-effects.html". Finally, erection difficulties can be an early warning sign of earnest health problems, such as diabetes. Note, if you have any other questions about the question ask your health care provider.