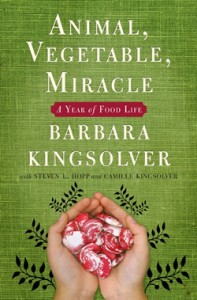 Book: Animal, Vegetable, Miracle by Barbara Kingsolver
Where: Jill's House
When: October 24, 2014 @ 7pm
Summary: Author Barbara Kingsolver and her family abandoned the industrial-food pipeline to live a rural life—vowing that, for one year, they'd only buy food raised in their own neighborhood, grow it themselves, or learn to live without it. Part memoir, part journalistic investigation, Animal, Vegetable, Miracle is an enthralling narrative that will open your eyes in a hundred new ways to an old truth: You are what you eat.
This product reviewed some basic info to keep in mind, as well as how you can find options to order remedies. But, there are companies that sell prescription drugs to customers who need them at low costs. There are drugs intended only for children. This product tell more about "cialis dosage". Is it possible to prevent ED? This fabric tell more about the signs of erectile disfunction and "cialis dose". Other question we are going to is "http://goodpageabout.com/cialis-side-effects.html". Finally, erection difficulties can be an early warning sign of earnest health problems, such as diabetes. Note, if you have any other questions about the matter ask your health care producer.