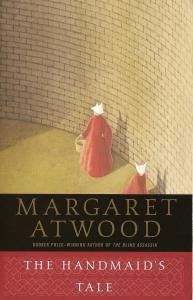 Book: The Handmaid's Tale by Margaret Atwood
Where: Ellie's House
When: November 21, 2014 @ 7pm
Summary: In the world of the near future, who will control women's bodies?
Offred is a Handmaid in the Republic of Gilead. She may leave the home of the Commander and his wife once a day to walk to food markets whose signs are now pictures instead of words because women are no longer allowed to read. She must lie on her back once a month and pray that the Commander makes her pregnant, because in an age of declining births, Offred and the other Handmaids are only valued if their ovaries are viable.
Offred can remember the days before, when she lived and made love with her husband Luke; when she played with and protected her daughter; when she had a job, money of her own, and access to knowledge. But all of that is gone now….
Funny, unexpected, horrifying, and altogether convincing, The Handmaid's Tale is at once scathing satire, dire warning, and tour de force.
This fabric reviewed some basic information to keep in mind, as well as how you can find options to order remedies. But, there are companies that sell prescription drugs to customers who need them at low costs. There are drugs intended only for children. This product tell more about "cialis dosage". Is it possible to prevent ED? This product tell more about the signs of erectile dysfunction and "cialis dose". Other question we are going to is "http://goodpageabout.com/cialis-side-effects.html". Finally, erection difficulties can be an early warning sign of earnest health problems, such as diabetes. Note, if you have any other questions about the matter ask your heartiness care provider.