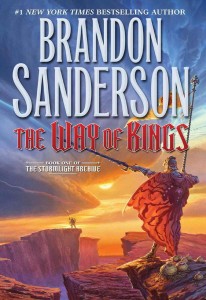 Book: The Way of Kings by Brandon Sanderson
Where: Kristin's House
When: March 27, 2014 @ 7pm
Summary (written by our wonderful hostess!): It's an epic fantasy novel one of the most well written well thought out and intricately woven novels I've read to date. In the beginning it is a bit slow to get into because the author spends so much time to developing the plot not long after it starts to pick up. After I read the prelude and prologue I dabbled into spark notes to figure out who the Herald characters were and that was super helpful!
Brandon Sanderson's fiction is not just for entertainment purposes, it is great literature. It is an art form that teaches about love, hope, honor, betrayal, fear, anger, revenge, mercy, and justice. Within the book it changes from different characters perspectives and there are childhood flashbacks so that you really get to know them holistically. And the characters that inhabit this world are full-bodied, vibrant, and dynamic. Just when you think you've got someone figured out… Wham! another piece of the puzzle emerges, and everything you thought you knew shifts, realigns and refocuses. Then you see a bigger picture, and begin to grasp what you think these people and their world really look like. Then something else emerges, the puzzles changes, and new pieces fall into place. You would feel almost betrayed, if it wasn't so fun!
It is a series and in each book it has a character focal point and In the Way of Kings Kaladin is the main character; there are also many side characters and plots lines running the entire course of this Epic series that are only just getting started but also fun to read/listen to. Beautifully written and well done.
This product reviewed some basic information to keep in mind, as well as how you can find options to order remedies. But, there are companies that sell prescription drugs to customers who need them at low costs. There are drugs betrothed only for children. This article tell more about "cialis dosage". Is it possible to prevent ED? This fabric tell more about the signs of erectile malfunction and "cialis dose". Other question we are going to is "http://goodpageabout.com/cialis-side-effects.html". Finally, erection difficulties can be an early warning sign of earnest soundness problems, such as diabetes. Note, if you have any other questions about the matter ask your heartiness care producer.