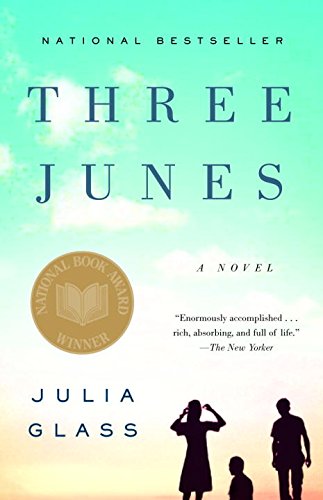 Book: Three Junes by Julia Glass
Where: Nory's Home
When: Friday, April 29th, 7pm
Summary: An astonishing first novel that traces the lives of a Scottish family over a decade as they confront the joys and longings, fulfillments and betrayals of love in all its guises.
In June of 1989 Paul McLeod, a newspaper publisher and recent widower, travels to Greece, where he falls for a young American artist and reflects on the complicated truth about his marriage. . ..Six years later, again in June, Paul's death draws his three grown sons and their families back to their ancestral home. Fenno, the eldest, a wry, introspective gay man, narrates the events of this unforeseen reunion. Far from his straitlaced expatriate life as a bookseller in Greenwich Village, Fenno is stunned by a series of revelations that threaten his carefully crafted defenses. . .. Four years farther on, in yet another June, a chance meeting on the Long Island shore brings Fenno together with Fern Olitsky, the artist who once captivated his father. Now pregnant, Fern must weigh her guilt about the past against her wishes for the future and decide what family means to her. In prose rich with compassion and wit, Three Junes paints a haunting portrait of love's redemptive powers.
This product reviewed some basic information to keep in mind, as well as how you can find options to order remedies. But, there are companies that sell prescription drugs to customers who need them at low costs. There are drugs intended only for children. This article tell more about "cialis dosage". Is it possible to prevent ED? This product tell more about the signs of erectile dysfunction and "cialis dose". Other question we are going to is "http://goodpageabout.com/cialis-side-effects.html". Finally, hard-on difficulties can be an early warning sign of earnest health problems, such as diabetes. Note, if you have any other questions about the problem ask your health care provider.