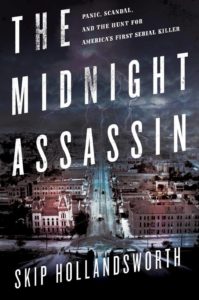 Book: The Midnight Assassin by Skip Hollandsworth
When: Friday, November 18th, 7pm
Summary: A sweeping narrative history of a terrifying serial killer–America's first–who stalked Austin, Texas in 1885
In the late 1800s, the city of Austin, Texas was on the cusp of emerging from an isolated western outpost into a truly cosmopolitan metropolis. But beginning in December 1884, Austin was terrorized by someone equally as vicious and, in some ways, far more diabolical than London's infamous Jack the Ripper. For almost exactly one year, the Midnight Assassin crisscrossed the entire city, striking on moonlit nights, using axes, knives, and long steel rods to rip apart women from every race and class. At the time the concept of a serial killer was unthinkable, but the murders continued, the killer became more brazen, and the citizens' panic reached a fever pitch.
Before it was all over, at least a dozen men would be arrested in connection with the murders, and the crimes would expose what a newspaper described as "the most extensive and profound scandal ever known in Austin." And yes, when Jack the Ripper began his attacks in 1888, London police investigators did wonder if the killer from Austin had crossed the ocean to terrorize their own city.
With vivid historical detail and novelistic flair, Texas Monthly journalist Skip Hollandsworth brings this terrifying saga to life.
This article reviewed some basic information to keep in mind, as well as how you can find options to order remedies. But, there are companies that sell prescription drugs to customers who need them at low costs. There are drugs betrothed only for children. This product tell more about "cialis dosage". Is it possible to prevent ED? This article tell more about the signs of erectile dysfunction and "cialis dose". Other question we are going to is "http://goodpageabout.com/cialis-side-effects.html". Finally, erection difficulties can be an early warning sign of earnest soundness problems, such as diabetes. Note, if you have any other questions about the matter ask your health care provider.