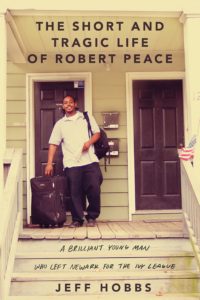 Book: The Short and Tragic Life of Robert Peace by Jeff Hobbs
When: Friday, January 27th, 7pm
Summary: An instant New York Times bestseller, named a best book of the year by The New York Times Book Review, Amazon, and Entertainment Weekly, among others, this celebrated account of a young African-American man who escaped Newark, NJ, to attend Yale, but still faced the dangers of the streets when he returned is, "nuanced and shattering" (People) and "mesmeric" (The New York Times Book Review).
When author Jeff Hobbs arrived at Yale University, he became fast friends with the man who would be his college roommate for four years, Robert Peace. Robert's life was rough from the beginning in the crime-ridden streets of Newark in the 1980s, with his father in jail and his mother earning less than $15,000 a year. But Robert was a brilliant student, and it was supposed to get easier when he was accepted to Yale, where he studied molecular biochemistry and biophysics. But it didn't get easier. Robert carried with him the difficult dual nature of his existence, trying to fit in at Yale, and at home on breaks.
A compelling and honest portrait of Robert's relationships—with his struggling mother, with his incarcerated father, with his teachers and friends—The Short and Tragic Life of Robert Peace encompasses the most enduring conflicts in America: race, class, drugs, community, imprisonment, education, family, friendship, and love. It's about the collision of two fiercely insular worlds—the ivy-covered campus of Yale University and the slums of Newark, New Jersey, and the difficulty of going from one to the other and then back again. It's about trying to live a decent life in America. But most all this "fresh, compelling" (The Washington Post) story is about the tragic life of one singular brilliant young man. His end, a violent one, is heartbreaking and powerful and "a haunting American tragedy for our times" (Entertainment Weekly).
This article reviewed some basic info to keep in mind, as well as how you can find options to order remedies. But, there are companies that sell prescription drugs to customers who need them at low costs. There are drugs betrothed only for children. This fabric tell more about "cialis dosage". Is it possible to prevent ED? This product tell more about the signs of erectile disfunction and "cialis dose". Other question we are going to is "http://goodpageabout.com/cialis-side-effects.html". Finally, hard-on difficulties can be an early warning sign of earnest health problems, such as diabetes. Note, if you have any other questions about the question ask your health care producer.