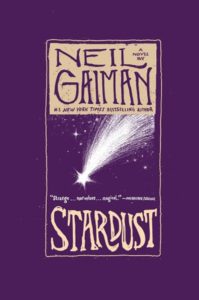 Book: Stardust by Neil Gaiman
When: Friday, October 27th, 7pm
Summary: Tristran Thorn falls in love with the prettiest girl in town and makes her a foolish promise: he says that he'll go find the falling star they both watched streak across the night sky. She says she'll marry him if he finds it, so he sets off, leaving his home of Wall, and heads out into the perilous land of faerie, where not everything is what it appears. Gaiman is known for his fanciful wit, sterling prose and wildly imaginative plots, and Stardust is no exception. Gaiman's silver-tongued narration vividly brings this production to life. Like the bards of old, Gaiman is equally proficient at telling tales as he is at writing them, and his pleasant British accent feels like a perfect match to the material. Gaiman's performance is an extraordinary achievement—if only all authors could read their own work so well.