When: Friday, May 30th @ 7pm
Book: A Thousand Splendid Suns by Khaled Hosseini
Where: Jill's House
Take 183N to Lakeline Blvd. Go left on Lakeline Blvd until it dead ends at Crystal Falls Parkway. Take left onto Crystal Falls Parkway. You'll pass an elementary school on the left and then you'll see a gated community called Grand Mesa on the right. Turn right onto Mira Vista. The second left is Palos Verdes. Take a left onto it and follow it through to the big dip (when you drive through it you'll know it). Rancho Mirage is the second left after the big dip and our house is all the way at the end of the street. You can't see it until you're almost there.

From Publishers Weekly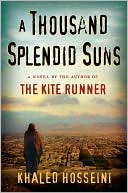 Starred Review. Afghan-American novelist Hosseini follows up his bestselling Th e Kite Runner with another searing epic of Afghanistan in turmoil. The story covers three decades of anti-Soviet jihad, civil war and Taliban tyranny through the lives of two women. Mariam is the scorned illegitimate daughter of a wealthy businessman, forced at age 15 into marrying the 40-year-old Rasheed, who grows increasingly brutal as she fails to produce a child. Eighteen later, Rasheed takes another wife, 14-year-old Laila, a smart and spirited girl whose only other options, after her parents are killed by rocket fire, are prostitution or starvation. Against a backdrop of unending war, Mariam and Laila become allies in an asymmetrical battle with Rasheed, whose violent misogyny—"There was no cursing, no screaming, no pleading, no surprised yelps, only the systematic business of beating and being beaten"—is endorsed by custom and law. Hosseini gives a forceful but nuanced portrait of a patriarchal despotism where women are agonizingly dependent on fathers, husbands and especially sons, the bearing of male children being their sole path to social status. His tale is a powerful, harrowing depiction of Afghanistan, but also a lyrical evocation of the lives and enduring hopes of its resilient characters.
Copyright © Reed Business Information, a division of Reed Elsevier Inc. All rights reserved.
This product reviewed some basic information to keep in mind, as well as how you can find options to order remedies. But, there are companies that sell prescription drugs to customers who need them at low costs. There are drugs intended only for children. This article tell more about "cialis dosage". Is it possible to prevent ED? This fabric tell more about the signs of erectile disfunction and "cialis dose". Other question we are going to is "http://goodpageabout.com/cialis-side-effects.html". Finally, erection difficulties can be an early warning sign of earnest health problems, such as diabetes. Note, if you have any other questions about the matter ask your heartiness care purveyor.