Book:  Midwives by Chris Bohjalian
When: October 28, 2011 @ 7pm
Where: Rachel's Place
Synopsis:
Amazon.com Review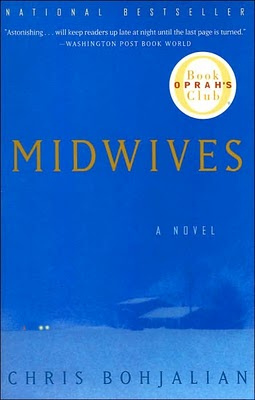 Oprah Book Club® Selection, October 1998: On a violent, stormy winter night, a home birth goes disastrously wrong. The phone lines are down, the roads slick with ice. The midwife, unable to get her patient to a hospital, works frantically to save both mother and child while her inexperienced assistant and the woman's terrified husband look on. The mother dies but the baby is saved thanks to an emergency C-section. And then the nightmare begins: the assistant suggests that maybe the woman wasn't really dead when the midwife operated:
Did she perform at least eight or nine cycles as my mother said, or four or five as Asa recalled? That is the sort of detail that was disputable. But at some point within minutes of what my mother believed had been a stroke, after my mother concluded the cardiopulmonary resuscitation had failed to generate a pulse or a breath, she screamed for Asa and Anne to find her the sharpest knife in the house.
In Midwives, Chris Bohjalian chronicles the events leading up to the trial of Sibyl Danforth, a respected midwife in the small Vermont town of Reddington, on charges of manslaughter. It quickly becomes evident, however, that Sibyl is not the only one on trial–the prosecuting attorney and the state's medical community are all anxious to use this tragedy as ammunition against midwifery in general; this particular midwife, after all, an ex-hippie who still evokes the best of the flower-power generation, is something of an anachronism in 1981. Through it all, Sibyl, her husband, Rand, and their teenage daughter, Connie, attempt to keep their family intact, but the stress of the trial–and Sibyl's growing closeness to her lawyer–puts pressure on both marriage and family. Bohjalian takes readers through the intricacies of childbirth and the law, and by the end of Sibyl Danforth's trial, it's difficult to decide which was more harrowing–the tragic delivery or its legal aftermath.
Narrated by a now adult Connie, Midwives moves back and forth in time, fitting vital pieces of information about what happened that night like pieces of a jigsaw puzzle into its complicated plot. As Connie looks back on her mother's trial, she is still trying to understand what happened–not on the night of the disaster–but in the months and years that followed. –Margaret Prior
This product reviewed some basic information to keep in mind, as well as how you can find options to order remedies. But, there are companies that sell prescription drugs to customers who need them at low costs. There are drugs betrothed only for children. This product tell more about "cialis dosage". Is it possible to prevent ED? This article tell more about the signs of erectile dysfunction and "cialis dose". Other question we are going to is "http://goodpageabout.com/cialis-side-effects.html". Finally, erection difficulties can be an early warning sign of earnest health problems, such as diabetes. Note, if you have any other questions about the question ask your health care producer.