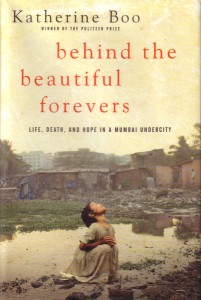 Book: Behind the Beautiful Forevers by Katherine Boo
When: June 28th, 7pm
Where: Amanda's House (see pingg invite)
Synopsis: Katherine Boo spent three years among the residents of the Annawadi slum, a sprawling, cockeyed settlement of more than 300 tin-roof huts and shacks in the shadow of Mumbai's International Airport. From within this "sumpy plug of slum" Boo unearths stories both tragic and poignant–about residents' efforts to raise families, earn a living, or simply survive. These unforgettable characters all nurture far-fetched dreams of a better life. As one boy tells his brother: "Everything around us is roses. And we're like the s**t in between." A New Yorker writer and recipient of a Pulitzer Prize and a MacArthur "Genius" grant, Boo's writing is superb and the depth and courage of her reporting from this hidden world is astonishing. At times, it's hard to believe this is nonfiction.
This product reviewed some basic information to keep in mind, as well as how you can find options to order remedies. But, there are companies that sell prescription drugs to customers who need them at low costs. There are drugs intended only for children. This article tell more about "cialis dosage". Is it possible to prevent ED? This fabric tell more about the signs of erectile dysfunction and "cialis dose". Other question we are going to is "http://goodpageabout.com/cialis-side-effects.html". Finally, erection difficulties can be an early warning sign of earnest soundness problems, such as diabetes. Note, if you have any other questions about the question ask your soundness care provider.