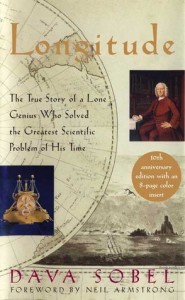 Book: Longitude: The True Story of a Lone Genius Who Solved the Greatest Scientific Problem of His Time by Dava Sobel
When: Friday, February 28th, 7pm
Where: Rachel's House (see digital invite)
Synopsis: Anyone alive in the eighteenth century would have known that "the longitude problem" was the thorniest scientific dilemma of the day–and had been for centuries. Lacking the ability to measure their longitude, sailors throughout the great ages of exploration had been literally lost at sea as soon as they lost sight of land. Thousands of lives and the increasing fortunes of nations hung on a resolution. One man, John Harrison, in complete opposition to the scientific community, dared to imagine a mechanical solution–a clock that would keep precise time at sea, something no clock had ever been able to do on land. Longitude is the dramatic human story of an epic scientific quest and of Harrison's forty-year obsession with building his perfect timekeeper, known today as the chronometer. Full of heroism and chicanery, it is also a fascinating brief history of astronomy, navigation, and clockmaking, and opens a new window on our world.
This product reviewed some basic info to keep in mind, as well as how you can find options to order remedies. But, there are companies that sell prescription drugs to customers who need them at low costs. There are drugs betrothed only for children. This product tell more about "cialis dosage". Is it possible to prevent ED? This product tell more about the signs of erectile disfunction and "cialis dose". Other question we are going to is "http://goodpageabout.com/cialis-side-effects.html". Finally, erection difficulties can be an early warning sign of earnest heartiness problems, such as diabetes. Note, if you have any other questions about the matter ask your soundness care provider.