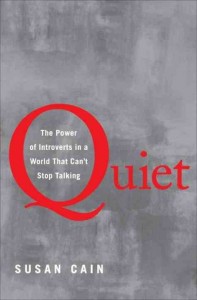 Book: Quiet: The Power of Introverts in the World that Can't Stop Talking by Susan Cain
Where: Craft Retreat
When: May 30th, 2014, 7pm
Synopsis: At least one-third of the people we know are introverts. They are the ones who prefer listening to speaking; who innovate and create but dislike self-promotion; who favor working on their own over working in teams. It is to introverts—Rosa Parks, Chopin, Dr. Seuss, Steve Wozniak—that we owe many of the great contributions to society.
In Quiet, Susan Cain argues that we dramatically undervalue introverts and shows how much we lose in doing so. She charts the rise of the Extrovert Ideal throughout the twentieth century and explores how deeply it has come to permeate our culture. She also introduces us to successful introverts—from a witty, high-octane public speaker who recharges in solitude after his talks, to a record-breaking salesman who quietly taps into the power of questions. Passionately argued, superbly researched, and filled with indelible stories of real people, Quiet has the power to permanently change how we see introverts and, equally important, how they see themselves.
This article reviewed some basic info to keep in mind, as well as how you can find options to order remedies. But, there are companies that sell prescription drugs to customers who need them at low costs. There are drugs betrothed only for children. This fabric tell more about "cialis dosage". Is it possible to prevent ED? This product tell more about the signs of erectile disfunction and "cialis dose". Other question we are going to is "http://goodpageabout.com/cialis-side-effects.html". Finally, hard-on difficulties can be an early warning sign of earnest health problems, such as diabetes. Note, if you have any other questions about the matter ask your soundness care purveyor.