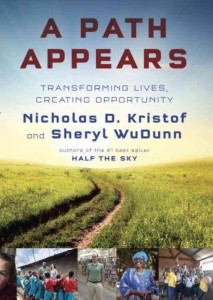 Book: A Path Appears: Transforming Lives, Creating Opportunity by Nicholas Kristof & Sheryl WuDunn
When: Friday, June 24th, 7pm
Summary: With scrupulous research and on-the-ground reporting, Nicholas D. Kristof and Sheryl WuDunn explore how altruism affects us, what are the markers for success, and how to avoid the pitfalls. In their recounting of astonishing stories from the front lines of social progress, we see the compelling, inspiring truth of how real people have changed the world, underscoring that one person can make a difference.
A Path Appears offers practical, results-driven advice on how best each of us can give and reveals the lasting benefits we gain in return. Kristof and WuDunn know better than most how many urgent challenges communities around the world face to­day. Here they offer a timely beacon of hope for our collective future.
This product reviewed some basic information to keep in mind, as well as how you can find options to order remedies. But, there are companies that sell prescription drugs to customers who need them at low costs. There are drugs intended only for children. This product tell more about "cialis dosage". Is it possible to prevent ED? This product tell more about the signs of erectile disfunction and "cialis dose". Other question we are going to is "http://goodpageabout.com/cialis-side-effects.html". Finally, erection difficulties can be an early warning sign of earnest heartiness problems, such as diabetes. Note, if you have any other questions about the matter ask your soundness care provider.