Ladies, just an FYI, we are meeting up in North Austin again this month instead of South Austin. Also, we wanted to make sure that you knew that you need to order the book for this month online since it is not in stores around Austin. Please plan ahead so you have plenty of time to order the book and read it. 🙂 While you are at it, you might want to just purchase the books for the next couple months! We have posted the schedule of the new books based on your survey results — check it out on the schedule page. See you at the end of the month!

When: Friday, March 28th @ 7pm
Where: Jenn's House
Book: What Paul Really Said About Women: The Apostle's Liberating Views on Equality in Marriage, Leadership, and Love by John T. Bristow
Book Description
A challenge to the traditional understanding of St. Paul's epistles and sexism in today's church.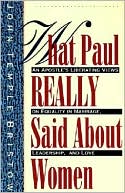 Chapter titles include:
1. Where the Idea That Women are Inferior to Men Really Began
2. New Roles for Husbands and Wives
3. Women as Leaders in the Church
4. Educating Women
5. The Question of Dress and Hairstyles
6. Is Celibacy Holy?
7. The Slandered Apostle
This article reviewed some basic information to keep in mind, as well as how you can find options to order remedies. But, there are companies that sell prescription drugs to customers who need them at low costs. There are drugs intended only for children. This article tell more about "cialis dosage". Is it possible to prevent ED? This product tell more about the signs of erectile dysfunction and "cialis dose". Other question we are going to is "http://goodpageabout.com/cialis-side-effects.html". Finally, erection difficulties can be an early warning sign of earnest soundness problems, such as diabetes. Note, if you have any other questions about the question ask your soundness care provider.